The Start program for undergraduate and graduate students
Practices in companies are an essential formula for the recruitment, training and integration of university students in the daily dynamics of today's companies. The University-Business Foundation, a pioneer in the management of internship programs in Spain, develops the Start Program in order to provide companies and institutions with an intermediation service with universities for the incorporation of interns.
Features of Start Program
Student profile: START is aimed at undergraduate and postgraduate students from all areas of Spanish universities and from many foreign universities with which FUE has signed cooperation agreements on internships. The condition of beneficiary will be subject in all cases to the internal regulations of the University of origin of the candidates.
Period: Permanent open call.
Duration: The duration of the internship will be as foreseen in the academic plan or, in the case of extracurricular practices, as determined by the university of origin of the candidate, being usual, a duration of 900 hours per academic year. In any case, this period may be extended at the request of the receiving company and with prior authorization from the university.
Schedule: Compatible with the studies of the selected students.
Pillars of the Program
Unified management of practices and process optimization.
The management of student internships poses serious difficulties for many companies attending to the different internal practices policies of the universities.
Depending on the University of origin, the practices:

They have a different maximum duration within the academic course or throughout the academic life of the student.
They can have different duration in weekly hours of dedication according to the teaching load.
They may have different access requirements depending on the student's academic performance that year, number of credits passed, etc.
They may or may not be validated as curricular practices with ECTS credits.
They have different processing processes that require or not the publication of offers through own bags of each university or center.
They have different types of agreements.

All these variables generate numerous difficulties for companies that make START a customized solution for the unified management of student internship programs nationwide.
Data of interest
Since its implementation, they have done Start practices:
More than 19,700 students
Coming from more than 80 universities and centers affiliated nationally and internationally.
In more than 600 companies
Methodology and Program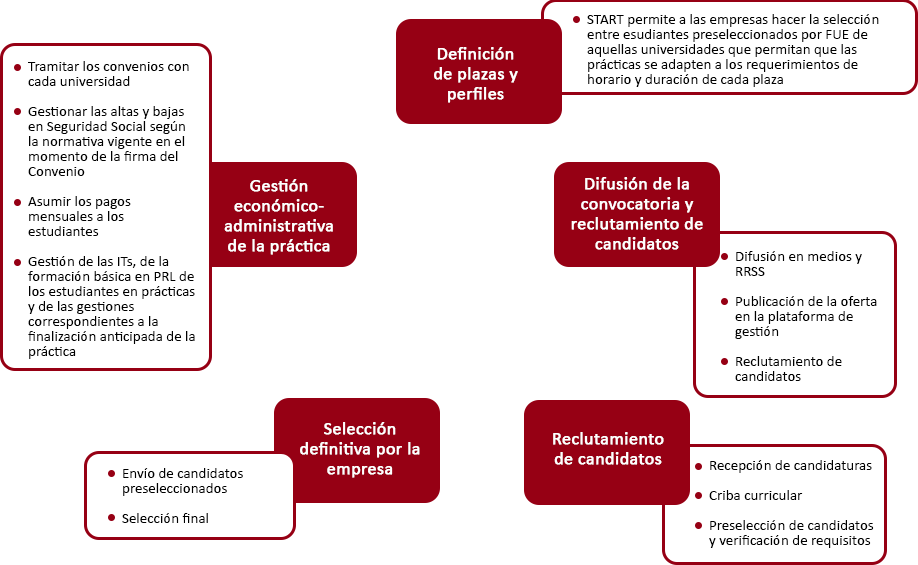 More information